This site was developed to help sell eBusiness solutions to "Brick and Morter" firms
More than Brochureware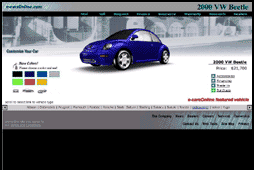 Savvy on-line shoppers expect an in-store shopping experience. Product visualization differentiates your site with digital products so real you can almost touch them. Customers can view your products from all angles, zoom in for details, and kick the virtual tires to their heartsí content. Buying confidence is enhanced, as is web site stickiness. And that translates into more revenue.
All in a Dayís Work
Viewpoint built the digital Brooklyn Bridge for "Godzilla". Think what we could do for your products! From automobiles to clothing to the latest high-tech gadgets, Viewpoint is helping e-tailers deliver truly interactive - and entertaining - web shopping experiences to their customers. Whatís more, Viewpoint, with our parent company Computer Associates, can integrate product visualization into a full e-commerce solution, so hosting, accounting, shipping and other systems are fully linked.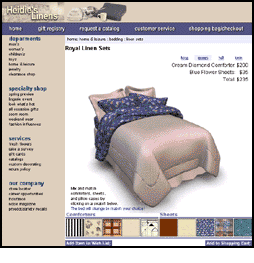 Leave the Visualization to Us
and concentrate on your core competencies, whether itís web design and navigation or product design and development. Let Viewpoint create the rich media content that will help accelerate your eBusiness.
Visit some of our satisfied customers: The Sharper Image, or Charles Tyrwhitt. Then contact Viewpoint for an assessment of your eBusiness visualization needs!